Located in Littlestown PA. Serving Hanover, Gettysburg, Littlestown, York, Lancaster, Harrisburg, Baltimore, and surrounding.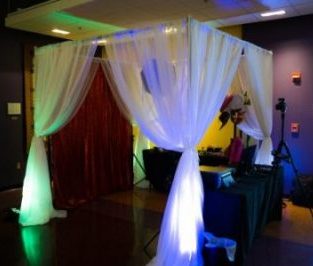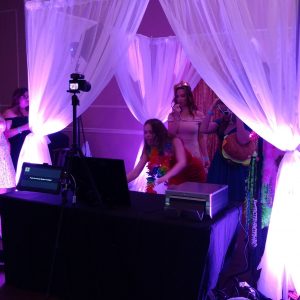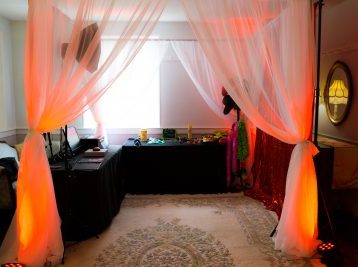 If you're like most of our clients, you want a great photo booth without any surprises, and you want a fair price. Sound about right?
We offer the nicest setup in the industry (that we've seen) and we get compliments all the time on how our booth MADE the party.
Great ambiance (More photos here!)
Studio strobe and camera setup (top quality portrait photos) (

As seen here

)
Printer prints twice the resolution as most of our competition (think SD vs HD)
Professionally designed custom templates (As seen here)
Uplighting to match your theme
One print for EACH person in the photo (most competitors give two copies only).
Props.. FUN props.
When we put our package together we wanted to seriously over-deliver on value compared to what you pay for.
When you book our booth we want your experience to feel so premium, and your memories to be so good that you feel like you booked a $1500+ booth without the price tag. Our clients tell us we are doing a good job :).
Our premium package is only $895 for 3 hours and we charge just $95 for additional hours.
If you are looking to add a photobook/guestbook on as well, we have one of the nicest ones money can buy that we create on the spot for your guests to sign with their photos attached.
I'm still not sold on your booth.. Tell me more?
We use top quality for everything and started our company to provide the highest quality experience possible. We are not in this business to be second best.
How our photo booth works:
You can see in the photos a big red button and screen facing the people in the booth.
People push the big red button to start the booth
Then they can see a live view of themselves on the screen
Countdown timer begins and the camera and flash take high quality photos!
After photos are taken, each guest in the photo gets a 600dpi print. (Big deal, SUPER sharp prints).
Anything Else?
You bet! We take care of you after the event too!
After the event all of the high resolution photos are hosted in an online gallery and every guest can access them.
There is an option to order those photos as well right from the gallery.
They are printed by our high quality print lab partner (WHCC).
WHCC is a lab many professional photographers use when printing photos for their clients.
You can order many types of prints including gallery wraps.
The photos are also all taken and uploaded in a high quality resolution that will allow for large size prints later if desired!
You might have noticed, we do things different.
We want to make your event perfect, and we understand not everyone has a "one size fits all" need. Use the form below to reach out to us and we will do everything possible to make your event better than you can imagine.
Print the party. :).
---